Say it With Semaphore is my new video series, perfect for sharing, that includes sayings such as: Happy Birthday, Congratulations, YOLO, etc. Check out the whole playlist here.
Semaphore is a maritime-based communication system that uses hand held flags to convey information at a distance. Say it With Semaphore originated from a piece titled, A Good Reminder to Always Sign Your Work  that was made possible by 4Culture.

Recent:
My Commitment to Creativity was celebrated this Valentine's Day in an article titled,
"The Love List: Seattle's Art Power Couples." View the article here: http://www.cityartsonline.com/articles/powercouples#sthash.Y4UQhbx2.dpuf
The photo shared in that article is from my upcoming Love Poems to Sailors series. You will be able to see more of that series at the Two Bells Tavern this coming August and September, 2014.
Marty Krouse helped me with my 2013 Santa Photo :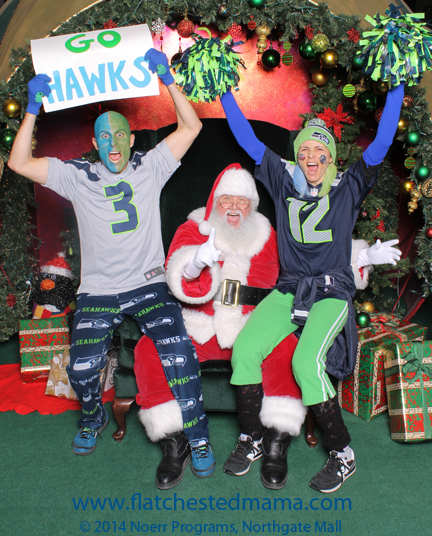 On September 7th, 2013, Erin Pike and Flatchestedmama patrolled NEPO 5K Don't Run on segways, reminding persons in a gentle and stoic manner, not to run. The Segway Patrol pair were rarely seen together until it was time for them to perform the Segway Mating Dance.
Here's what people said about the Segway Mating Dance:
"Brilliant and indescribable" ~ Amanda Manitach 
City Arts article

"It was sexy, it was funny, it made me contemplative…. it had it all…." ~ Kathleen Hite, Facebook 
"That was very moving. One of the few scraps of hard evidence I've seen which unquestionably affirms we are in the 21st Century…." ~ Alex Kinnan, Facebook
___________________________________________________________________
Thank you for checking out my website!
Love and unicorns, Flatchestedmama
All images and content copyright ©Amy-Ellen Flatchestedmama Trefsger unless otherwise noted. Please and thank you.