Flatchestedmama creates time-based and conceptual works. She was a founding member of the all-girl, adult double dutch performance troupe, OntheDouble (2003 ~ 2010), and she likes sending and receiving snail mail.
CONTACT:
email: flatchestedmama@gmail.com
SNAIL MAIL: New as of January 2019
PO Box 31441
Seattle, WA 98103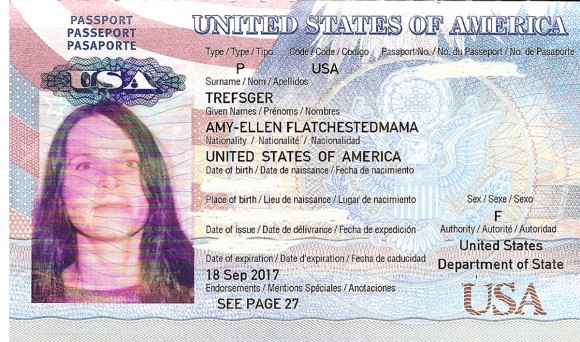 Flatchestedmama ~ The story behind the name:
The artist had an early introduction to the mispronunciation and misspelling of her last name, Trefsger, via the media attention she received from running (really fast) in high school. Due to that experience, when starting her budding art career, she decided to use a moniker and chose Flatchestedmama.  She found it humorous, empowering and catchy.
The name Flatchestedmama was legally integrated into her birth name in conjunction with her Commitment Ceremony where she made a Public Declaration of Commitment to Her Creative Self. The act of legally adopting her artist moniker helped make her "commitment to creativity" official by adding some bureaucracy to it. The IRS and her grandmother (now passed) write letters to Amy-Ellen Flatchestedmama Trefsger. Word to her Grandma.
Thank you for your interest.
Above images L to R: Smurfette, Urban Beach Scene by Flatchestedmama image ©Adam Weintraub 2006, TMJ: All The Gum I chewed in December 2010 by Flatchestedamama, Monochromatic May self-portrait in 2007, misc. self portrait.
All images and content copyright ©Amy-Ellen Flatchestedmama Trefsger unless otherwise noted. Please and thank you.