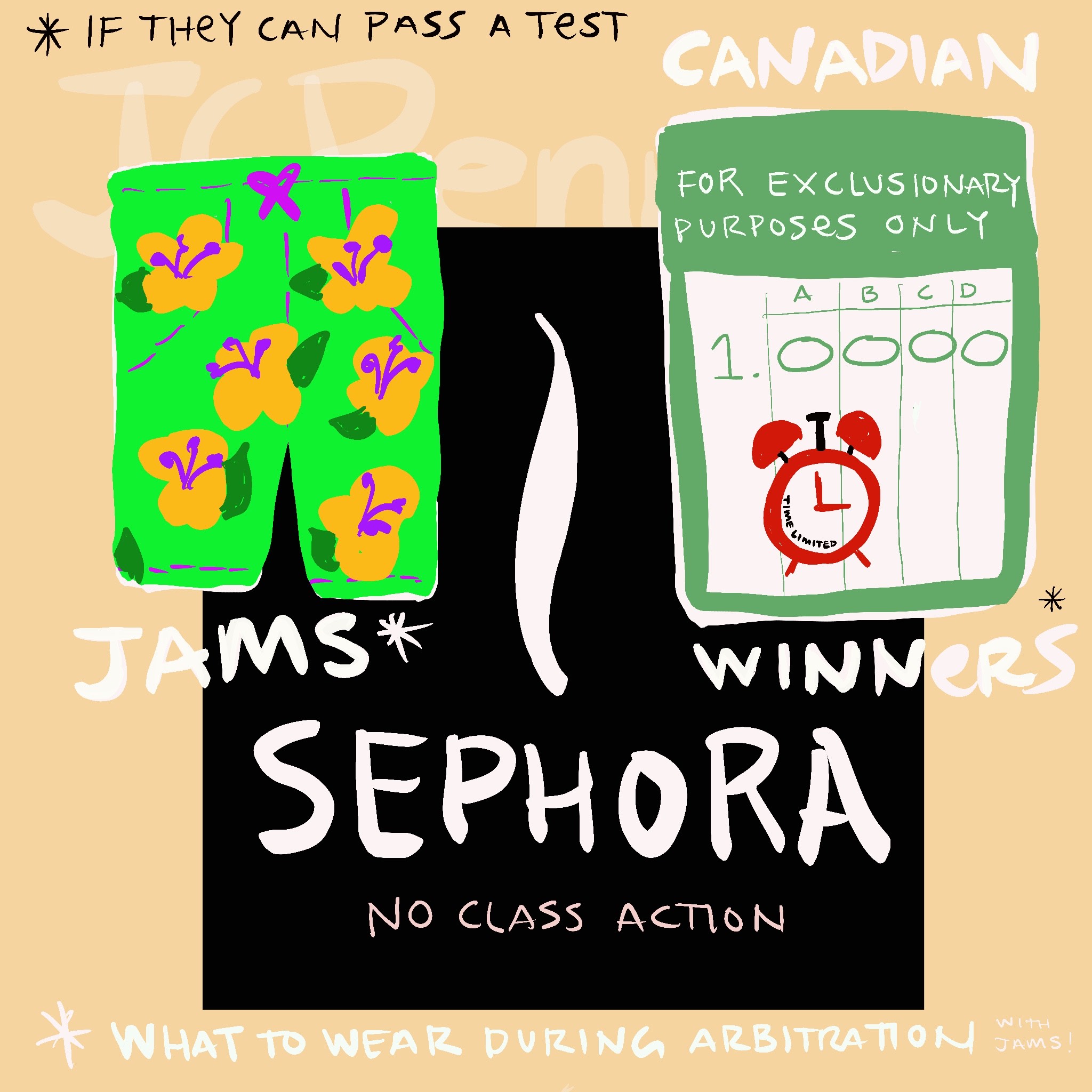 Most fun part of this contract? The arbitration company is JAMS. Ahh, they were good shorts, weren't they. I loved my JAMS!
John Oliver has a piece on arbitration and he relays arbitration is not good, for the consumer. They usually favor the company, not the individual consumer and it takes away all of your legal rights to get a fair trial, etc. Actually, both 'contracts' note that they do not allow class action lawsuits and no trial in front of a judge or jury (for Beauty Insider program). Sweepstakes uses two Michigan courts and no one else. Also, sweepstakes disputes will only pay for actual out of pocket expenses, which may only cover postage if that was how you applied. More on that below. But… have no fear, I looked into JAMS and they have gone virtual! You can arbitrate in the comfort of your own home! Wearing Jams while arbitrating through JAMS is required attire.
Thinky thought: starting a 'points benefit program' is an interesting way to get all of your customers to not be able to take any legal action against you. All for the possibility of free shipping and samples. God we love samples!
About the Sweepstakes:
Hands down, most interesting thing about the sweepstakes is that they really don't want to give the money to our polite neighbors to the North. Any Canadian winner needs to, "correctly answer a time-limited, skill-testing question without any assistance in order to be eligible to receive prize." What the hell is that question going to be?! Unless that time-sensitive, skill-testing question is how to apply a full bake, I think that is crap.
Sure, you don't technically need to buy anything to enter… but you have to either surrender your Beauty Insider points (150 points for 1 entry on one entry date) or submit a handwritten note with a bullet point list of about 7 things that must be present on it to keep your submission out of the "filing cabinet" otherwise known as the trash. Let me know if you would like that mail in info, I can provide it.
Got any immediate family members that work at JCPenney? If yes, you are ineligible. Sephora and JCPenney are like conjoined twins and sometimes JCPenney ate Sephora in utero and the Sephora is nested inside of JCPenney like a Russian doll…. A Russian doll that likes to eavesdrop and will start mailing you stuff if you ever visit a Sephora inside the JCPenney and use your Beauty Insider account, etc.. It is actually written out as SiJCP. Good stuff.
If you win your gonna have to sign away the right to hold JCPenney harmless. I mean, what have they ever done to you other than make you look good at a reasonable price?
Along with allowing them (this includes JCPenney) the ability to use your name, likeness, hometown, etc., they are also able to use your voice and opinions (think of the opinions you could share!) without further compensation.
Finally, just so you're not surprised: you'll be 1099'd and have to pay taxes on it. Canadian winners automatically have 30%tax removed making their award $17,500.