On September 18, 2004, I made a Public Declaration of Commitment to My Creative Self.
The event paralleled a wedding to display that my pursuit of happiness includes the continued exploration of ideas. From that day forward, I am committed to being a practicing artist.
In 2014, I celebrated my 10th Anniversary and was named one of Seattle's Art Power Couples! See the below links to read more:
http://www.cityartsonline.com/articles/would-you-marry-your-art
http://www.cityartsonline.com/articles/powercouples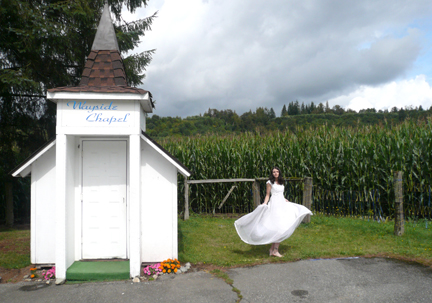 photo by Ryan Crase, 2007.
The performance, held at the Center on Contemporary Art in Seattle, included Matrons of Art, pronounced vows, a legal name change, a reception, a cake and a honeymoon. The Matrons of Art were women who had heavily influenced and assisted my creative growth to date. The vows outlined creative exploration and growth throughtout the duration of my life (no matter how large or small). The legal name change united my birth name, Amy Ellen Trefsger, with my artist moniker, Flatchestedmama, and has since provided me with a daily reminder of my intention.  The cake and honeymoon were artworks made by yours truly.
It's easy to fall behind on creativity. Bills need to be paid, there are dry spells, so many good books, the need for exercise and then there's always matters of the heart that take up one's time and energy. Providing myself with a boundary of intention keeps me on track. Creativity provides me with a greater sense of self and an opportunity to engage with others. I look forward to new mediums and future artistic growth.
Many thanks to: Andrea J, Gardner, Sam Trout, Caffeine, Eroyn Franklin, Tory Franklin, Erin Norlin, Bruce Trefsger, Barbara, Mimi Hudson, Karen Finneyfrock, Maged Zaher, Sheri Brown, Alan Sutherland, Monica Schley, Julie Baldridge, Matthew Parker, Jaime Keeling, Erin Shafkind, Lorraine Drazba, K.D. Schill, Lori DeMarre, Bootsy Holler, David Herbert, CoCA, Don Hudgins, Jim O'Donnell, Mike Sweney, Dino Martini, Mary Guiden, Marianne Goldin, Dawn Cerny, DW Burnham, Michael Sanchez, Dalmatians, Balsa, Chicken, DJ's on trikeS, Chuck Dong, Darrin Wiener, Michelle Wicks-Cypher, Randy Wood, Dan Ayala, Pedro Alexander, Thomas Ring, Debbie Ableson, Mike Klaport, Olathe Poste, GSS staff and all maililng list participants
All images and content copyright ©Amy-Ellen Flatchestedmama Trefsger unless otherwise noted. Please and thank you.