Amy-Ellen Flatchestedmama Trefsger is a conceptual artist with a proclivity for performance, a literalist who loves alliteration and someone who just can't help herself from reading self help books. 
On September 18, 2004, she made a Public Declaration of Commitment to Her Creative Self. The event emulated a wedding and in conjunction with it, she legally merged her birth name with her artist moniker. That name change has served as a constant reminder of her intention and adds an element of play into the bureaucracy of life.
She's been holding on to the moniker like a pair of legwarmers from the 80's, patiently waiting for self deprecating humor to circle back around into style. 
Amy-Ellen Flatchestedmama Trefsger resides on the traditional lands of the Coast Salish peoples, specifically the Duwamish Tribe. Real rent contributions can be made here: realrentduwamish.org
She's currently livin large in a small studio with a moss ball named Moe who can play any instrument with his mind.
flatchestedmama@gmail.com
MAIL ME AND I'LL MAIL YA BACK 
PO Box 31441
Seattle, WA 98103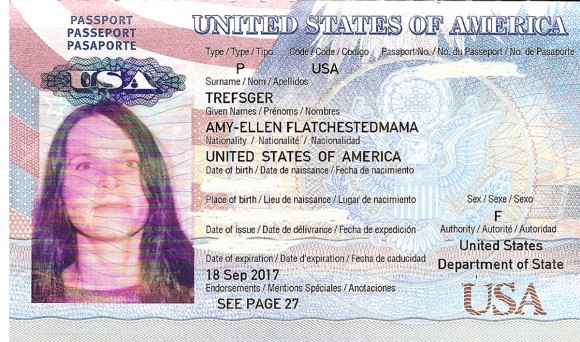 Flatchestedmama – The story behind the name: The artist had an early introduction to the mispronunciation and misspelling of her last name, Trefsger, via the media attention she received from running (really fast) in high school. Due to that experience, when starting her budding art career, she decided to use a moniker and chose Flatchestedmama.  She found it humorous, empowering and catchy.
In early 2019, Jake Uitti wrote this bio:
While for many all the world is a stage, for Seattle-based artist, Amy-Ellen Flatchestedmama Trefsger, all the world is a carnival. And she positions herself as one of the central figures in all the gleeful performance. Big bursts of colors, wonderful worlds of whimsy and shocks of introspection are signature to the conceptual artist, known perhaps most famously for herPublic Declaration of Commitment to Her Creative Self.
On September 18, 2004 Amy-Ellen wed her artistry, until death do them part. The culmination of nine months of preparation, the ceremonial event featured a white dress; poetry from beloved Emerald City writers, Karen Finneyfrock and Maged Zaher; a cake made from cement; and her father, who'd flown in from Pennsylvania, walking the artist down the aisle. Since, she's been dutifully creating, embodying an eager spirit, generous with methods to display ponderous joy.
Other standout projects include Amy-Ellen's time-based works like 100 HOURS IN A LIFE JACKET, during which wore a life jacket for 100 hours straight (taking only one bath); DESTINATION: COUNTRY VILLAGE, a nine-day residency in a country themed shopping village; and SHARING MY SUBCONSCIOUS, a 52-week dream vlog. Conceptual works include a collection of Santa photos and a question and answer booth on performance art. Truly, Amy-Ellen is a figure unto her own in a city rich with them.