April 2015
A month-long performance piece that awarded gold stars every day the artist walked around Seward Park (a 2.5mile loop). I need motivation to exercise so I created a sandwich board with a star chart on the front. I handed out gold stars to others who were also getting their exercise.
Hamil with Care by Brett Hamil covered the piece here:
http://www.cityartsonline.com/articles/gold-star-flatchestedmama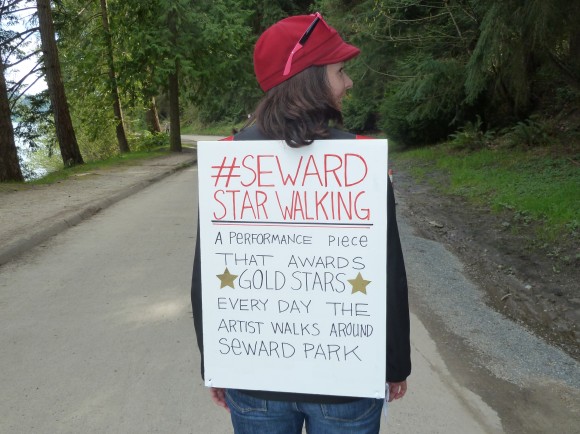 On Monday, 4/13, my calf hurt a whole lot (to the touch of my pant leg). I asked friends on Facebook how I could continue the piece while I took some much needed rest. Stephanie Brown had the idea to have Stand In walkers. The piece was completed by volunteers who wore the board while walking and handing out gold stars to others. Thank you to all Stand In walkers, you get a GOLD STAR!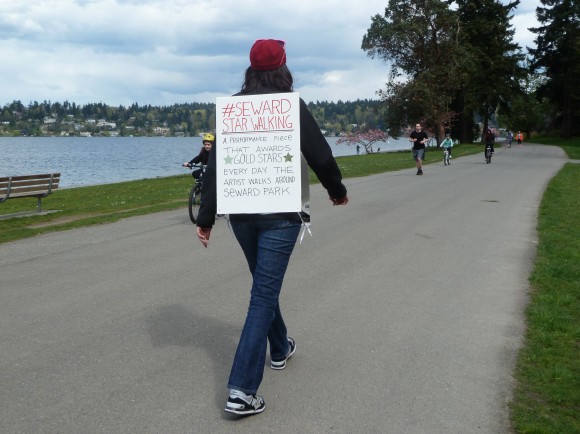 Many thanks to the #SewardStarWalking Stand Ins:
Nicole Stellner, Liz Kunz, Stephanie Brown, Mary Guiden and June Sekiguchi.
Select images below: